Hi everyone!
Well it's been almost 5 weeks since i wrote my last article. So much has happened in the meantime! To make it short we left Lebanon, entered Syria for a few days and eventually crossed back the turkish border and are now in Istanbul to enjoy a visa marathon.
That's for the introduction. Now slightly more in details, and hopefully not too much because i would seriously bore you otherwise. First of we left Lebanon not knowing really if we would be able to enter Syria. From the few lines above you will have easily understood that we managed to get in the country. But unlike our first time when it took us 7 hours, this time it went surpringly fast: Only 15 minutes! And that's only because the electricity was cut twice! Anyway, we made it all right into Syria and headed straight to Palmyra in the east of the country, right in the middle of the desert. We decided not to stop in Damascus since the revolution going on did not make it advisable to stay in big cities. So on that same day we entered the desert and landed in the city of Tadmur aka Palmyra. What a beautiful sight it was. Large roman columns and buildings, an oasis in the background, a citadel overlooking the aera from the top of a rocky hill. Around, the desert. We enjoyed the sunset and decided to put the tent out in the desert, hence we were alone in this amazing landscape. The next day we visited everything: The place is like the best spot ever for a gigantic hide and seek. We also hand picked a few dattes from the oasis and eventually left in the early afternoon, heading north in the desert to meet the Bedouins. A small road, rocky landscape, a few sheeps here and there and the Bedouins tents like milestones on the way. Of course we were invited a few times to drink tea, have lunch, we could have slept there had we wanted! But we chose to stay in a truly amazing place in the middle of the desert. The pictures will describe much better than any of my words so please take a look at them!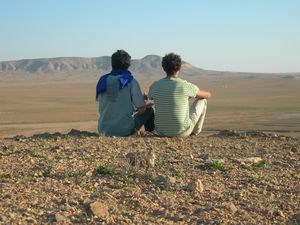 Syria
The beauty of the syrian desert was such that we decided to stay a few days there rather than rush to Turkey. And to be honest, it was much safer there than any other places in Syria. The Bedouins were so welcoming, it was unbelievable. We eventually moved on to Alep to visit this great city. But before that we were invited by Ismael to sleep over at his house. It was much fun especially since he raises pigeons (apparently the Dutch like to do that as well...) and has them fly over his house in circles... Weird! Nonetheless he was so nice and we were greeted like true VIPs! The visit of Alep, its citadel and its souk, we headed on to Turkey and arrived in Gaziantep. We slept close to a village named Halfeti where the next morning we had the suprise of seing hundreds of cars driving down the road, apparently gathering to celebrate the birthday of a famous leader of the PKK, the Kurdish party. The same night we had the chance to see a little more of the kurdish people being welcomed for the night by a whole village. Imagine being watched closely by 20 men - no women to be seen around, or just briefly! - in the reception room of a house, whilst thunder and lightening are striking around and that the electricity has gone off hence the room is lighten up by only a small torch light. But they were once again so nice and we were treated like guest of honours once more. What a delight!
But this was not to last. The next day we continued to discover Nehmrut Daği, the famous place where Antiochos I (1st century BC) built giant statues of Gods among which he represented himself, all this at the top of a 2900m mountain overlooking rivers and lakes. Until then it was just a dream. However as we drove down the very very very steep road (we almost did not make it up there...) the gearbox happened to break. For those who are not mechanics (us as few months ago...), let it be known that this is a crucial part of the car, very difficult to repair if not impossible to. So believe me when I tell you that our spirits dropped to an unprecedented low. Nonetheless we eventually managed to get the car to a garage 50 km from there (it's really impressive how people are much more helpful when you agree to pay them...) and after taking advices from specialists back in France who told us we had nothing to lose (yes it was that bad...) we decided to undo the whole engine and try to fix the gearbox with the mechanic. It took us 2 full days of work (we slept 5 hours in the meantime) but, and that was a suprise, in the end it worked again! Unbelievable... A few hours back I was thinking of finishing my trip on a bike or something and now here we are, ready to go on! Not for long, but let's keep that for later...
So on we went. Heading to Cappadoccia, an amazing place where the landscape has been dug down giving birth to high columns that appear like chimney rocks which are a wonder of the nature. We spent 4 days enjoying the great landscapes, walking around, visiting among many other tourists, always trying to find the places where their coaches could not get to. We camped in beautiful valleys and even in a troglodyte village that was abandonned. When we left the weather had turned cold, it even snowed the morning of our departure. So we headed on to Istanbul and drove 600 kilometres in 10 hours to cross Anatolia, our best performance up to now, which we should not be too proud of since it does not benefit the car... Was it the reason why we broke the gearbox again the next day? Probably not. But still. Well we indeed broke down, only 50 km away from Istanbul! So frustrating... Here we were, almost there, due to receive a new gearbox in a few days (we could not take the chance of it breaking it again, and we were proved right with this new failure...). Hence we arrived in Istanbul in an unexpected way, by train! Had someone told us that a few weeks earlier we would have laughed at them. Anyway, we met Alev again - our turkish friend - and are now staying in her appartment. Now the fun part: The visa marathon. But that will need an article of its own.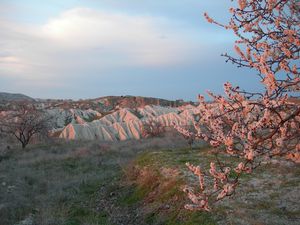 Turkey 2
Istanbul greetings!
Alexandre and Emmanuel