Breaking news: A 2CV has arrived in Greece!
Hey fellows,
Latest news from the trip, we have eventually crossed the Balkans and reached Greece safely. After 18 days of travel we have completed the 4 000km milestone and are driving smoothly to Athens, under the rain. Who would have thought it could happen here? Anyhow, everything is going well, we have seen amazing things, met great people. A great croatian farmer in Italy, some lovely people in Zadar who welcomed us for the night, a couple of albanian 2CV owners. And that's only the beginning... Until yesterday we were still in Albania were we stayed 4 days, spending 2 to assist the Sisters of Mother Teresa in the north of the country. A great experience! This country is so poor... It was quite a shock after driving through Croatia. Crossing Albania was no easy task though. The roads were hazardous for the most part and in some places there was no road at all! We are now getting used to a rally type of driving I must say. As long as the car manages it! The car, our best friend these days, that we have to care for as much as we can. And not just any car, because this 2CV surprises everyone it goes passed. You should have seen the looks of the people in Croatia, Montenegro, Albania... All stunned! It is so funny to see their faces. Some come to talk to us, interested to know what car it is, where it comes from, and even how much it costs! Even the police comes sometimes to see us, asking questions. Yesterday, as we were leaving Albania, a policeman came to us, asking our names, wanting to shake our hands, when we were thinking he was going to cause us problems! Quite a change from that croatian border where we got stuck for one hour while they were checking the car again and again... Talking about borders, we spend some time crossing them or just finding them. It took us 2 hours to find the albanian border from Montenegro. No signs at all. Looks like the Montenegro government does not want people to leave the country!
Well, we are now cruising to Athens, waiting for the greek sunshine, so until then, all the best to everyone! You can check out the pictures with the links on the right hand side, cliking on the one below will take you to the shots from Croatia.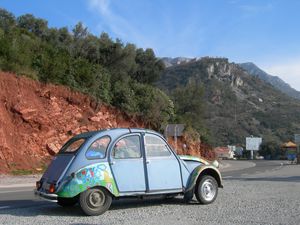 Croatia
Alex and Emmanuel