Central Asia: The End (but not of the trip...)
Greetings english readers!
Well this will probably be one of my last articles since we are 3 weeks away from our arrival in Paris. In the past month we have covered a lot of kilometers/miles (pick your own) and made it through Kirghizstan and Kazakhstan, to end up now in Russia! So much to say about what happened in those wonderful places, but as usual I'll try to make it short so as not to bore you too much...
Let's start with Kirhizstan. What an amazing country. Some of you have already seen the pictures and I believe they are almost sufficient to describe how fantastic our stay there was. The road to Bichkek was challenging with some high passes over 3000m (sorry, I' m not an inch person) but blinded us with wonderful mountain sights. Our first yourts appeared, we had our first swin in a lake and tasted the national beverage named khymis. One advice, be prepared when trying out this famous drink. As it is fermentated horse milk the taste is, well let's put it this way, disgusting. That's how we found it anyway. To be fair we had it for breakfast which made it even harder to swallow. Moving on we finally arrived in Bichkek, met up with the French community there (some 30 people I believe!), went out a little and were interviewed by a local newspaper. This last part was quite comic. The journalist could hardly speak english and since our russian is still low we do not quite know how the result will be. We cannot wait to have a copy of it translated...
Eventually we left the capital city to discover the other lakes of the Tian Shan mountain range. First of, Song Kol. A diamond hiden high up in the mountains where we spent a great time. Our arrival was quite something. The car pretty much broke down at the bottow of the last pass leaving us alone in the night some 3000m high. Let me add, with no food. It's freezing cold and trust me the night did not make things better... In the morning were picked up by a local truck and were carried among the cattle to get up the pass. We ended up spending two days with those people, helping to set up their camp site - aka yourts - for the summer period (winter being way too cold they go down in the valley), gathering the cattle, killing the sheep, horse riding, learning local wrestling and so on... 48 hours spent among those people: Incredible!
We then move on to another lake, Issyk Kul. A gigantic strech of water surrounded by big mountains. No one around as usual, it's brilliant. Next stop a small valley close by, a small bit of paradise that we would never had visited had the only tourist we met not told us about. If you are a mountain addict, do drop by in this country, it is definitely worth it! You probably got the message, we loved it here.
Heading on to Kazakhstan, forced to continue our route north since we had reached the most eastern part of our trip, we completely changed landscapes. The sceneries changed from mountains to immense flat ranges of ground, mostly empty. Quite something in itself, especially when you know that this is pretty much the case on 2.7 million square kilometers (9th largest country of the world, thanks Wiki!). Here we are starting the big stuff. We have over 2000 kilometers to cross in a week's time. It had been a long time since we had not driven this much. Luckily the roads were better there than in the previous country... Overall not so much to say in contrast. We spent an amazing evening with some locals in the house of a guy we had met whose friends played accordeon and clarinet during over 2 hours. We drove a lot. We swan in yet another lake. We drove even more. Oh yes, we got attacked by four men who were totally under drugs at the time. Well, not necessaraly a good memory but we are now over it. It happened during the night when I heard a noise next to the car. I got out of the tent shouting in the dark and these people showed up. Very quickly the situation got tense and eventually I received a hit from a metallic bar they had used to force in the car. Overall I got a few hits and other punches whilst they were stealing some things in the tent and I was trying to hide our most precious items from them. Luckily they were so high I managed to put a few things aside but it cost me a bleeding nose, some small bits of my teeth (Robert from Macau if you ever read this...) and a few bruises on the body. On his end Manu was dealing with the 3 other guys in front and also got his share, not really the ideal situation as well... To sum up they stole 50 euros (out of way more...), some souvenirs and equipement and damaged the car. You can imagine how angry we were when they left... But we were alive and could still continue the trip. Isn't it the most important? That's what we tried to convince ourselves.
After this incident we continued our way and reached the capital city, Astana. A brand new town in the middle of nowhere with skycrapers and shiny buildings. The work of one man, Nazarbayev, the President. Actually we thought it was pretty good. Not to say that I would live there though... Our last night in the country was spent with some locals after a man who had guided us with his car invited us over. We ended up in his small house in a tiny village in the middle of nowhere (everything is in the middle of nowhere in Kazakhstan...), listening to his stories about the cold winter (-40 degrees Celsius) and tasting wild strawberries ravioli. The next day we crossed the russian border to enter Siberia. Driving through the Ural mountains we therefore came back in Europe after 4 months spent in Asia. Now being in Moscow with only 3 weeks left in seems that the end is very close. Paris, here we come!
Pictures are online.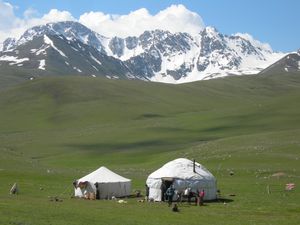 Kirghizstan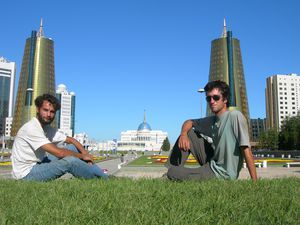 Kazakhstan
From Russia with love,
Alex and Manu