Hey y'all,
Well as usual it has been a while since I last gave some news about the trip. Call me lazy all you want I don't care! In the meantime we drove a lot and have reached Kirgyzstan just recently. This as far east as we go so we're really glad to have made it here. Paris is now 22 000 km behind and 12 000 km or so ahead of us. With only 2 months left to make it there it's quite a challenge that lies in front of us!
Over the past 2 months we have discovered beautiful Iran, transited in suprizing Turkmenistan and rallyed on bumpy Ouzbekistan roads. So much to say once again. Let me start from where I left, Iran. A country with a bad reputation that amazed us in many ways. Behind your TV screen, should it be in Europe, Asia or America, Iran looks rather gloomy. The truth is: It is great! No tourists whatsoever (I wonder why...), stunning landscapes and historical sites, unbelievably hospitable population. If that does not convince you to change your next holiday plans then hopefully the following will. Three weeks in Iran were in fact not enough for us. From north to south and east to west there is so much to see... From the splendid bazar of Tabriz, to the fascinating Esfahan city center, not forgetting the Shiraz gardens and the desert landscapes, we enjoyed every single day of our stay there. Being greeted by everyone with a "Welcome to Iran!", fed tasty food more than once and hosted like VIPs for many nights, it was a pleasure to meet the iranians who proved to be so helpful and nice.
Eventually we had to leave and move on to Turkmenistan. Another country from which we knew very little before hand. Our fist view of the country was its capital city: Ashgabat. An astonishing place combining old soviet residential buildings with brand new shining administrative buildings. Quite something to see, trust me. Wide empty avenues, very few people, and petrol stations selling 1l of fuel for 0,15 euro cents! Wouah! But as soon as you leave the city you enter the desert, with its famous scorpions. Well, to be faire we did not see any, to my great disappointement . But otherwise I might not be here writing these words. It's also our first encounter with roads signs warning about camels. Halfway through the desert there was also a fantastic natural show: A crater with gaz burning there since 1974. We discovered this in the night and were submerged by this stunning site. Checkout the pictures and you'll see what I mean by that.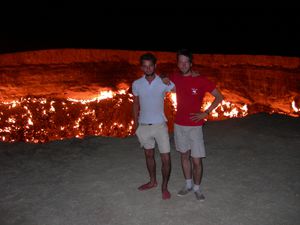 The next destination was Ouzbekistan. We were definetly in Central Asia by now and running on the Silk Road for good. Starting to discover the former soviet union. Here our names become Sachka and Edick, it makes things a lot simpler. It was a succession of wonderful cities like Khiva, Boukhara and Samarcand. But also Moynaq, a former harbour by the ex-Aral Sea. Also our first vodka tasting. A memorable night with some locals in a garden where we were forced into drinking shot after shot of vodka. We also went to Tashkent, there going out with some young guys to discover the night life. Finally we visited the Ferghana valley and its superb landscapes of coton fields with in the background the kirghize mountains. A couple of days where we were welcomed by a lot of people, for a chat, a meal or a night. It was only after an ultimate night with some sheperds that we crossed over to Kirghyzstan where we are right now.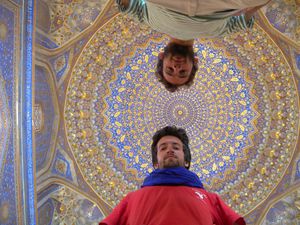 Hence the trip goes on, the car still works eventhough not as well as we would like it to, and the crew is still alive despite some serious stomach aches in the past days. Do take a look at the pictures of Turkmenistan and Ouzbekistan, it will be worth the time!
Greetings from Bichkek,
Alex and Emmanuel